Funny Girl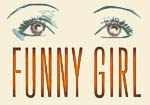 August 10-15, 2010 At the Wells Fargo Pavilion 1419 H Street, Sacramento, CA, 95184
Music by Jule Styne. Lyrics by Bob Merrill. Book by Isobel Lennart.
By popular demand. "Funny Girl" returns to the tent for the first time in 18 years. The wonderfully opulent yet intimate story of Fanny Brice, a goofy comic singer, who rises from ugly duckling to Ziegfeld headliner. A celebrated musical comedy filled with extravagant production numbers and show-stopping songs including "People" and "Don't Rain On My Parade."
Click here for more information and to buy tickets to Vicki's latest show!