Vicki Sings on the new Charles Bloom Album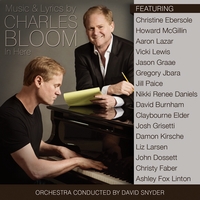 Vicki sings "A Children's Traditional" on Composer/lyricist Charles Bloom's debut recording, "Music and Lyrics by Charles Bloom: IN HERE" just released by Sonic Landscapes. The recording was produced, orchestrated and conducted by David Snyder. It features an 18-piece orchestra, with Bloom's original compositions sung by a collection of the American Musical Theater's brightest stars including, among others: Jill Paice (Rebecca), Nikke Renee Daniels (Porgy and Bess), Christine Ebersole, John Dossett (Newsies), David Burnham and Howard McGillin.
Charles Bloom's diverse and admired song catalog includes cabaret, pop, country, jazz and special material. His cabaret/revue works have been heard in venues all over the world. Among the long list of artists who have previously performed or recorded songs are: Patti LuPone, Mandy Patinkin, Michael Feinstein, B.D. Wong, Cheyenne Jackson, Andrea Marcovicci and Julie Reyburn.
You can purchase the album here: http://www.cdbaby.com/AlbumDetails.aspx?AlbumID=musiclyricsbycharlesbloo